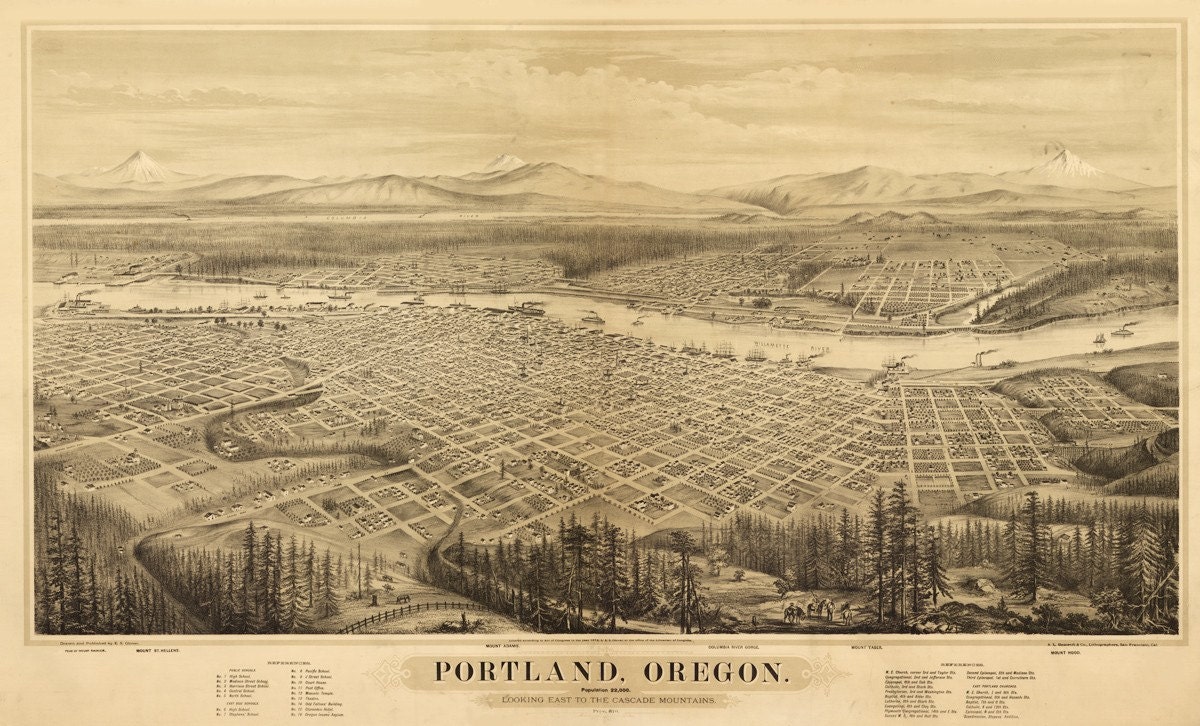 Some Douglas fir trees reported up to nearly 300 feet tall, and 6 to 8-1/2 feet diameter once grew on the south slope of Mt Scott, Portland in 1912. Oregonian archives: The Sunday Oregonian. (Portland, Ore.) 1881-current, May 26, 1912, Image 13
The Antone Sechtem ranch was located in Happy Valley, sheltered between Mt Scott and Talbert Mountain, segmented by Sunnyside road, and was within a couple hundred yards of Mt. Scott Creek. A great sheltered valley for big trees. Very Large Cedar trees also once grew in this valley.
300 feet is about as tall as Portland's newly built South Waterfront Apartments , and about twice the size of the tallest fir trees growing around most of inner Portland nowadays. Powell Butte & Forest Park do have some Doug firs over 200 feet (the tallest are 230 to 250 feet high in Macleay Park), and there are amazingly still some huge fir trees up to nearly 300 feet tall and 6 to 8.3 feet diameter at Oxbow Park, Gresham- 15 miles east of Portland- the tallest trees in the Metro. Lewis and Clark recorded in their journals a 318 feet tall fir tree, only 3.5 to 4 feet in diameter (pencil thin!) at the upper reaches of "Quicksand river" in 1806, around the present day Sandy River Delta Park, in Gresham.
The 1852  survey map of the Portland basin shows evidence of a once great forest of Douglas fir, Hemlock, and Maple trees. A series of fires between 1825 and 1845 burnt much of this vast forest so that Portland had great open meadows with burnt and fallen timber along most of thecentral basin and east side, with swamps and marshland extending  from Powell blvd. southward down through Crystal springs, and Johnson creek.
However, large groves of old growth trees remained east of 82nd ave, near Rocky Butte, down to Mt Scott and Happy Valley.
The Honorable Andrew J. Dufur, (whose son later formed the town of Dufur, east of Mt. Hood) is quoted in an 1876 agriculture report that he had cut down a Douglas fir 321 feet in length and 6 feet 4 inches diameter, 30 feet from the ground. It can be assumed that this tree was removed by Mr. Dufur on his residence of East Portland, near the Columbia river, north-east of Rocky Butte, where he cleared his land of the tall timber, built his own cabin, and started farming along the Columbia slough between 1859 and 1872, in the present Parkrose neighborhood.
Report of the Commissioner of Agriculture for the Year 1876 – pg 181.
Another great Douglas fir 330 feet tall was removed by W. F. Tracy, on his property north of Portland, in Camas, Washington along the Lacamas headwaters.
A
300 foot tall
Douglas fir was also felled on the Ezra fisher land claim, east of present day Oregon City.
Other Fir trees between 250  to 300 feet high were measured at present day Oregon City by early pioneers. Col. James Clyman, then residing at Willamette Falls, Oregon wrote a letter to Mr. Hiram Ross on Oct. 27, 1844 telling of the trees,
"One tree that I measured a few days since, is six feet four inches in diameter and 268 feet long. The tree was felled with an axe last summer."
Then there is this amusing report of a boy free climbing a 260 foot Douglas fir out in Beaverton, Oregon in 1894!
Accounts of fir and Cedar trees 350 to 400 feet tall, and 18 to 20 feet in diameter were even reported in some early newspapers – trees along Kalama, Washington, and a grove of enormous fir and cedars estimated at over 350 feet high and 20 feet diameter near Latourell, Oregon and the Hood river, north of Mt. Hood.
Portland too, may well have had some of these exceptional trees even higher than 300 – 325 feet, as occasional giants were encountered by pioneers settling the land around Seattle and Vancouver British Columbia over a century ago, sometimes 350 – 400 ft tall. (See my post on Tallest Douglas Fir, and claims of a 465-footer along the Nooksack river, Whatcom Wash. in 1896, and 415-footer north of Vancouver in 1902).